By Vumani Mkhize
BBC News, Johannesburg
One of South Africa's most famous rappers, Riky Rick, has left his legion of fans grieving after he took his own life at the age of 34. His death has highlighted the mental health challenges facing men in a society scarred by its racist and violent past.
Riky Rick, whose real name was Rikhado Makhado, grew up in KwaMashu – a township created for black people in the coastal city of Durban by the white-minority regime that ruled until Nelson Mandela's ascent to power in 1994.
He seemed to have it all in post-apartheid South Africa – a lovely family (he leaves behind a wife and two children) and a successful music career, which also saw him mentoring up and coming artists.
I first met Riky Rick in 2018 at a highbrow fashion event in Cape Town that was attended by the likes of supermodel Naomi Campbell, Gucci boss Marco Bizzarri, and the first black editor of British Vogue, Edward Enninful.
He seamlessly mingled with them, dripping with style, flashing a bright photogenic smile while waving at the cameras.
It was clear that Riky Rick possessed an uncanny ability to navigate glamorous spaces while still maintaining an edginess that endeared him to his fans.
Few knew then that he had been struggling for years with depression.
"It's been a hard, hard road for me in these past couple of years trying to decide, when I present something to the world, which side am I presenting," he said.
Ricky Rik rose to mainstream fame in 2014 with the hit single Nafukwa.
The following year he released his first studio album, aptly named Family Values, which included the hit song Boss Zonke, clearly indicating which side of himself he wanted to present more of.
The unforgettable album cover features him bare chested with tattoos. His son Maik is draped across his arms, with both their gazes fixed to the camera.
It is one of many iconic images that people have been sharing since he took his life in his recording studio in Johannesburg last week.
His music fused a charismatic blend of hip-hop and kwaito – a uniquely South African take on house music.
It resonated with young people, attracted to Riky Rick's larger than life trash talking and fashion savvy Boss Zonke alter ego.
His influence in South African hip-hop circles was solidified through the creation of Cotton Fest, an urban culture platform for up and coming and established artists to showcase their talent.
High suicide rate
Riky Rick's struggles with his life of fame while trying to be an ordinary person is something that resonates with music promoter Kutloano "DA Kruk" Nhlapo, who knew the rapper since his student days.
"Most musicians are scarred beings," he told the BBC.
"Our biggest drug is the buzz of being on stage and performing and feeding off the energy. Once that energy wears off, then you realise that you're no different to the next man walking down the street."
Riky Rick's death has opened a wider conversation around men's mental health, the fragility of masculinity and how it is manifesting itself in ever-increasing suicide rates in the country.
"The big boys don't cry attitude and the patriarchal mindset and some of the cultural beliefs surrounding mental health are some of the challenges facing South Africa at the moment," said Garron Gesll, founder of the Men's Foundation, an organisation that promotes mental health awareness for men.
"We are facing one of the highest suicide rates in the world. South Africa has an average of 200 attempted suicides every day and approximately 20 to 22 suicides," Mr Gesll told the BBC.
Lesotho topped the list, with a suicide rate of 72 per 100,000 people. Eswatini was third, with 29, and South Africa 10th with 23. Most of the suicides were committed by men.
Mr Gesll said that in South Africa many men are suffering from post-traumatic stress from the era of white-minority rule, when the black majority was subjugated to oppression and heinous violence.
The migrant labour system and the rapid urbanisation that South Africa has seen since the end of minority rule has also "created a generation of fatherless boys" who did not have "positive role models", Mr Gesll added.
"I hope that very soon we can address the issue of how damaged and broken the men in this country are.
"We have no-one to talk to, we just pat each other on the back and say 'get on with it, be strong my boi' … but in reality, we are traumatised. Generational trauma passed down to us," he said.
Loss of his father
The founding editor of Culture Review Magazine, Kulani Nkuna, has been suffering from depression for more than a decade.
He told the BBC that when it came to dealing with inner turmoil, "most men feel naked and exposed".
"Ricky was a successful person and we perceived him to be a person who could have access to quality mental health care, while most of us have to rely on the public health system, which could be challenging.
"So Riky's death made me feel like none of us ordinary folk have a chance of surviving it, if it can affect those with resources," Nkuna said.
The death of his father, and the grief and loss he experienced in his crucial formative years in high school, is something Riky Rick battled to deal with, even as an adult.
"When he passed away, I was so angry, so upset. I was so upset, like: 'Why my life'?"
"I lost my father at a time when I needed the help. I lost him at a time when I needed that voice. A lot of people don't understand that you can never replace the voice of a father," he said in the 2020 Lab Live podcast.
It is a tragic and cruel twist of fate that Riky Rick's two young children will now grow up without a father.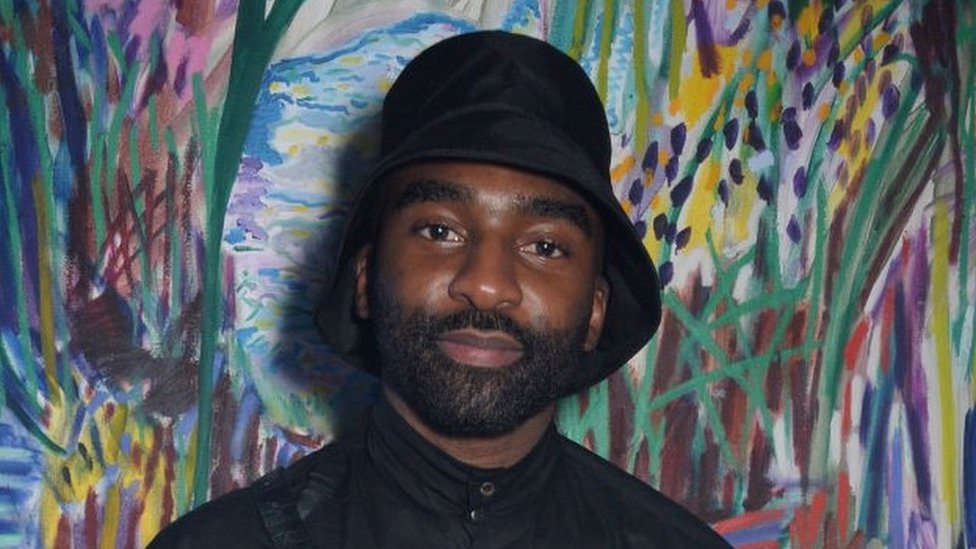 Getty
I'll return a stronger man. This land is still my home"
At his funeral on Tuesday, mourners dressed in white spoke about how he courageously fought his addiction to drugs and alcohol, his love for family, music and fashion.
His stepfather,former secretary-general of Amnesty International Kumi Naidoo, battled to hold back tears as he recalled how they had helped each other grieve for their parents.
"You helped me come to terms with my mother's suicide from 40 years ago and I hope I helped you, as well, deal with the tragic loss of your dearest father," he said.
The tragedy of Riky Rick's death is that he gave subliminal messages that he was thinking of taking his life.
It is difficult to comprehend what went through his mind in the final hours of his life.
At 03.20 on 23 February he sent out his last tweet: "I'll return a stronger man. This land is still my home."