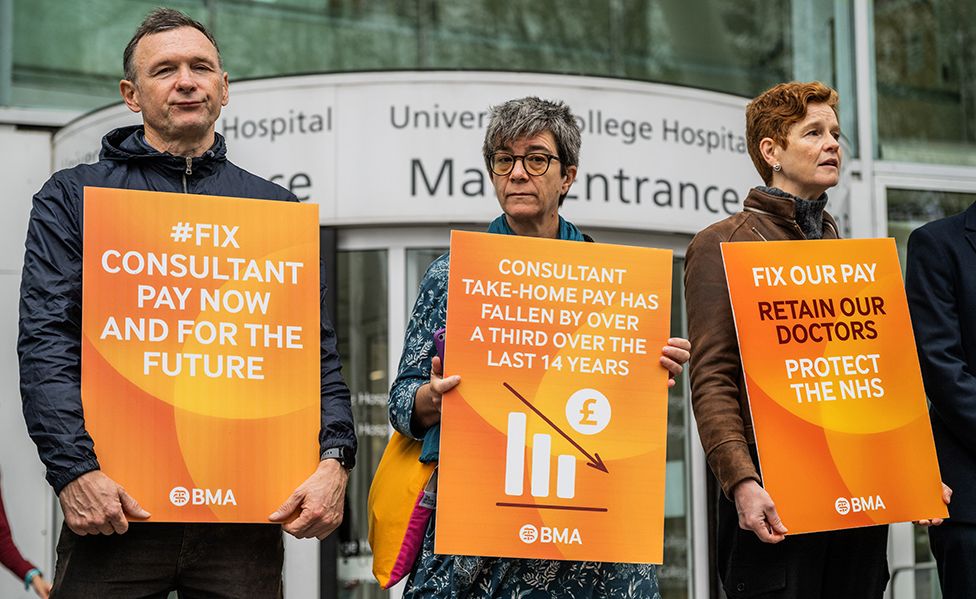 By Nick Triggle
Health correspondent
Junior doctors in England are joining consultants for their first joint strike in the history of the NHS.
Consultants walked out on Tuesday and junior doctors followed suit at 07:00 BST on Wednesday.
The British Medical Association-organised strike by consultants is lasting two days, while the one by junior doctors is scheduled for three.
Emergency care will be covered throughout – but NHS bosses said patients were still in danger.
It marks an escalation of the pay dispute between the government and doctors.
What services are affected?
People needing emergency care are being advised to use accident-and-emergency units as normal or call 999.
For other health concerns, 111 or GP services should be used – although they could be disrupted, as some junior doctors work as GP trainees.
Routine services, including non-emergency operations and appointments, are expected to be significantly disrupted.
Patients should have been told about any postponements in advance.
Throughout their 48-hour walkout, consultants will provide "Christmas Day" cover – emergency services will be staffed and there will be some basic level of cover on the wards.
Junior doctors have a similar arrangement.
Junior doctors account for nearly half NHS doctors – from medics fresh out of university to those sometimes with 10 years' experience.
On Thursday, when the consultant strike ends, junior doctors will stage a full strike, meaning consultants will have to be drafted across to provide cover.
NHS England medical director Prof Sir Stephen Powis said: "The NHS has simply never seen this kind of industrial action in its history. It poses an enormous challenge."
Matthew Taylor, of the NHS Confederation, said he feared ministers were underestimating the risks of the strikes, describing the situation as dangerous.
Hospitals were reporting some patients were facing having treatments and appointments cancelled for the second or third time, he said.
What impact will this have?
This is the third walkout by consultants and the sixth by junior doctors. In each case, significant amounts of routine work has had to be rescheduled.
Some hospitals have reported up to half their normal levels of activity have had to be put off during the strikes.
Nearly one million appointments and treatments, including some cancer care, have been postponed because of industrial action since December.
This includes disruption caused by walkouts by other staff groups including nurses, radiographers and ambulance workers.
But the doctors' walkouts have caused the most disruption.
Last week, the Shelford Group, which represents 10 of the biggest hospital trusts in the country, warned the scale of the disruption now being seen had "inevitably heightened the risk of harm" to patients.
But plenty of doctors will continue working.
As well as BMA doctors providing official cover during the strikes, these will include specialty and specialist (SAS) doctors, between the grade of junior and consultant, who make up just under 10% of the medical workforce.
What is more, about one out of every three doctors is not a BMA member.
How far apart are the two sides?
It is more than 100 days since the health secretary has sat down with BMA leaders for pay talks – and none are planned for the future.
Mr Barclay said this year's pay rise was a "final and fair" settlement and it met the independent pay review body's recommendations.
Consultants are being given 6%, junior doctors an average of 8.8% depending on their level.
And with no sign of an end to the dispute, the health secretary has confirmed he is looking at introducing minimum service levels in hospitals during strikes – defining the number of doctors, nurses, and other staff needed to cover urgent and emergency cover.
He said similar systems were in place in France and Italy, but appeared to suggest enforcement action against individual employees would be unlikely.
"It is about having the enabling legislation that gives a safety net, focussed on patients for time critical care," he said.
Currently life-and-limb cover has to be provided, but the extent of that is negotiated locally.
The pay increase mean junior doctors' basic salary ranges from £32,400 to £63,150, while consultants can earn up to £126,300.
And doctors earn about a quarter to a third more on top of this, on average, for things such as unsociable hours and additional work.
Junior doctors were after a 35% increase, to make up for what they say are years of below-inflation wage rises.
Consultants have not put a figure on what they would like but insist it must be above inflation, to start restoring pay they have lost once inflation is taken into account.
BMA leader Dr Philip Banfield said if the government cared about patients it would "reopen talks and come to the table with a credible offer".
In terms of public support, latest polling from YouGov show 56% support junior doctors, with 37% opposed. For senior doctors 42% support them and 50% are opposed.
Are you a doctor with a view on the strike or a patient affected? You can get in touch by emailing haveyoursay@bbc.co.uk.
Please include a contact number if you are willing to speak to a BBC journalist. You can also get in touch in the following ways:
If you are reading this page and can't see the form you will need to visit the mobile version of the BBC website to submit your question or comment or you can email us at HaveYourSay@bbc.co.uk. Please include your name, age and location with any submission.
Related Topics
Related Internet Links
The BBC is not responsible for the content of external sites.