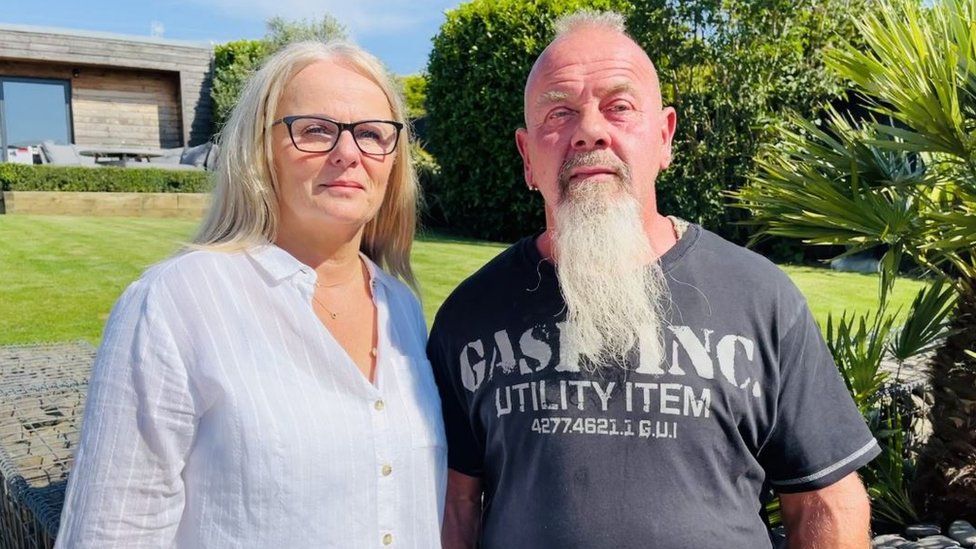 By Anne-Marie Tasker & Chris Baynes
BBC News
A man claims he lost his sight in one eye after routine cataract surgery left him in "unbelievable" pain.
John Stabler, from East Yorkshire, is set to sue the maker of an artificial lens he had fitted last year and which was later recalled over safety fears.
The 63-year-old said he felt like he had been hit "with a sledgehammer" after the operation and had suffered "catastrophic" loss of income.
Manufacturer Nidek said it "profoundly regrets" any patient suffering.
Mr Stabler is one of 14 patients seeking compensation over the company's EyeCee One Preloaded lens.
He said he had suffered permanent nerve damage to his left eye after having the lens fitted at Hull and East Yorkshire Eye Hospital in October last year.
He told the BBC: "About two days after, I was getting really bad pain. It was unbelievable. It was like someone was hitting me with a sledgehammer."
Mr Stabler, who runs a groundworks business in Bempton, now has blurred vision in his left eye and says his sight is like "looking down a straw".
He has lost his HGV licence as a result and said his company's turnover had fallen by between 70% and 80% due to the impact on his ability to work.
NHS England issued a safety alert in January 2023 after Nidek announced a "voluntary and precautionary" global product recall of its EyeCee One and EyeCee One Crystal intraocular lenses.
UK distributor Bausch + Lomb said there has been "a limited number of reports of elevated intraocular pressure in patients".
'Heartbreaking'
More than 400,000 cataract operations a year are performed England to remove a cloudy lens in the eye and improve vision.
Mr Stabler was told his vision in his left eye would be back to normal within three days of the procedure.
He said he had been told before his surgery there was "a one in a million chance" of something going wrong.
He added: "Funnily enough, I said 'it will probably be me' and I laughed about it, but if I'd have known it was going to be anything like this, I would never have had it done."
His wife Amanda Stabler said it had been "horrendous" and "heartbreaking" to see her husband struggling in the weeks after the surgery.
"He was banging his head constantly and I was constantly saying 'there's a step' because he was constantly falling down," she added.
Ten of the patients seeking compensation were treated at Hull and East Yorkshire Eye Hospital.
Christian Beadell, a partner at Fletchers Solicitors, which is representing them, said: "The complications they suffered range from very mild conditions to loss of vision in extreme cases, when raised pressure was allowed to continue without early intervention."
He added at least 51 NHS trusts had used the lenses and "we have no doubt there is a very, very high number of patients that have been affected by the implantation".
Nidek said "patient safety always comes first" and it was "currently undertaking a careful and detailed review of what may have caused some patients to experience difficulty with its intraocular lenses".
A spokesperson said the company was "not yet in a position to make definitive statements around cause and effect".
Related Topics
Related Internet Links
The BBC is not responsible for the content of external sites.