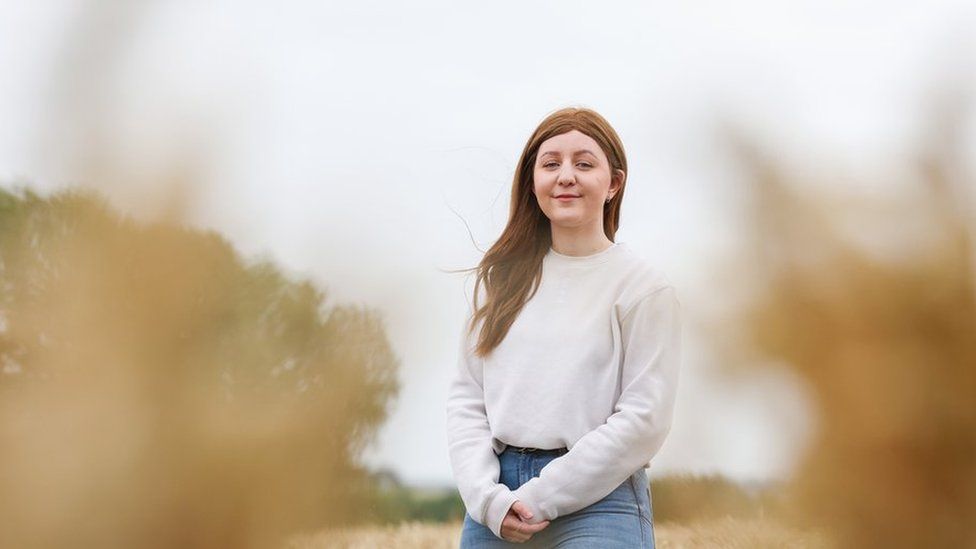 By Galya Dimitrova
BBC News
A young woman with a rare genetic condition that increases her risk of cancer has been given hope with a new clinical trial.
Ella Hines, 24, from Wantage, Oxfordshire, has Li-Fraumeni Syndrome (LFS), which predisposes her to certain, often rare, cancers.
This summer she was told she was likely to be accepted on a clinical trial for a drug usually used to treat diabetes that could help people with LFS.
She has already had cancer twice.
Miss Hines developed a rare cancer of the adrenal glands when she was just nine months old and later, at 23, she faced breast cancer.
She was diagnosed with LFS, which increases the risk of her developing cancer in her lifetime by 90%, two years ago.
However, a clinical trial launched this summer is testing anti-diabetes drug Metformin that could help people with LFS, and Miss Hines was told she was likely to be included.
It is funded by the National Institute for Health and Care Research and Medical Research Council partnership, with additional support from Cancer Research UK.
Miss Hines said she was "looking forward to being part of it" and hoped it would give other people with LFS "a better outlook in the future".
"Having been through cancer twice now, I hope young adults and children know that there are other people going through this and there is an end to it," she said.
"I could cope with the medical side of it all, having the mastectomy and six months of chemotherapy.
"But the hardest part was losing my hair, my eyelashes and my fingernails which then led to the complete loss of my self-confidence."
Prof Sarah Blagden, director of the Oncology Clinical Trials Office at the University of Oxford, said the trial aimed to enrol 224 patients with LFS in the UK.
"This is particularly important for people who have risk factors and who currently live in fear in developing cancer," she added.
Related Topics
Related Internet Links
The BBC is not responsible for the content of external sites.