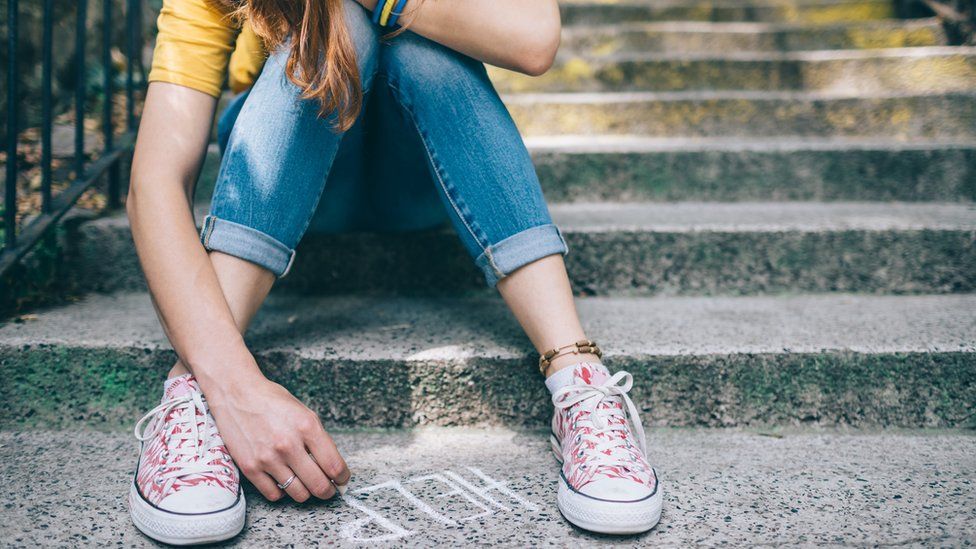 One in four 17- to 19-year-olds in England had a probable mental disorder in 2022 – up from one in six in 2021, according to an NHS Digital report.
Based on an online survey, rates among teenage boys and girls were similar – but twice as high in 17- to 24-year-old women compared with men.
And children affected were more likely to live in a household with money issues or using a food bank.
Charities said the figures were deeply worrying.
The charity Mind said the UK government "will be failing an entire generation unless it prioritises investment in young people's mental-health services".
The findings are based on the views and experiences of 2,866 young people aged above six who have been followed up since 2017.
Their responses to an online survey, and those of younger children's parents, in April 2022, were used to assess different aspects of mental health, including emotional problems, behaviour and relationships.
The children and young people were then classified by how likely they were to have a mental disorder – unlikely, possible or probable – without being seen or diagnosed by a mental-health specialist.
Separate NHS figures show that the number of under-18s in contact with NHS mental health services in England rose by nearly 30% in the last year – from 768,083 in 2020-21 to 992,647 in 2021-22.
An initial survey of children's mental health, in 2017, was followed-up in 2020, 2021 and 2022 to track changes.
The survey results suggest a probable mental disorder among:
18% of seven- to 16-year-olds – five in every classroom
nearly 33% of female 17- to 24-year-olds, compared with 13% of male
nearly 20% of male seven- to 16-year-olds, compared with 10% of female
Young people with a probable mental health disorder were more likely to:
say they had self-harmed, with 28% saying they had talked about it in the past four weeks
live in a household where paying bills and putting food on the table was a challenge
'I was in a very dark place'
Matthew Rimmington, 24, is working full-time after studying acting at university – but aged 18, he felt his life was falling apart.
It started with symptoms of anxiety, which deteriorated until his feelings really started scaring him.
Despite going to his GP and being referred to NHS mental-health services, Matthew received no early support.
"I was put on one waiting list and then another one," he says.
"It was a constant back and forth and we never got anywhere."
His mother paid for counselling – but before long, Matthew was self-harming and regularly attempting suicide.
"I convinced the NHS crisis care team that I was OK – but I was in a very dark place," he says.
After being diagnosed with a separate medical condition that could have caused his mental-health issues, Matthew felt more positive and started university.
Meeting up with a peer mentor every week helped him through his studies – but he is aware of the challenges that lie ahead.
Matthew now takes anti-depressant medication and, knowing his anxiety will never completely disappear, goes for counselling when he can afford it.
"NHS services always have too long a wait," he says, "a wait no-one suffering from mental illness should have to be patient for."
Mind interim chief executive officer Sophie Corlett said funding should be directed towards mental-health hubs for young people in England, where they can go when they first start to struggle with their mental health.
"The earlier a young person gets support for their mental health, the more effective that support is likely to be," she said.
"Young people and their families cannot be sidelined any longer by the government, who need to prioritise the crisis in youth mental health as a matter of national emergency."
The NHS Digital survey also indicates:
one in eight 11- to 16-year-old social-media users have been bullied online – and more than a quarter of those have a probable mental disorder
nearly two-thirds of 17- to 24-year-olds – and more girls than boys – have a possible eating problem
teenagers with a probable mental health disorder are more likely feel lonely, with 18% affected
a third of seven- to 16-year-olds and two-thirds of 17- to 23-year-olds had had problems sleeping in the past week
The Children's Society echoed the call for early support hubs, saying the figures laid bare the "horrifying scale of mental health issues" affecting children and young people.
Amy Dicks, from the society, said the problem of online bullying underlined the importance of the Online Safety Bill progressing quickly through Parliament "to protect children from dangers like cyber-bullying".
Minister for Mental Health Maria Caulfield said £2.3bn was already being invested in mental health services, which would mean an extra 345,000 children and young people able to access NHS-funded support by 2024.
She said the government was committed to increasing the number of mental health teams in schools to nearly 400 by April 2023, in order to support three million children and young people.
"These figures highlight how important it is that we do everything we can to support our children and young people with their mental health," Ms Caulfield said.
funded by the Department of Health and Social Care and the Department for Education
commissioned by NHS Digital
conducted by the Office for National Statistics, the National Centre for Social Research, University of Cambridge and University of Exeter
Related Internet Links
The BBC is not responsible for the content of external sites.