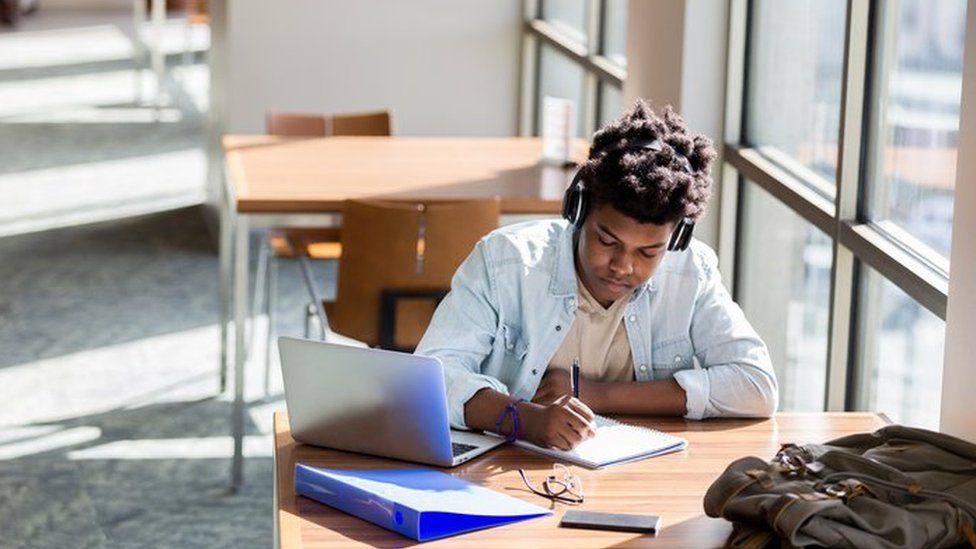 By Emaan Warraich
BBC News
The government is teaming up with charities and student groups to try to combat loneliness at universities.
A new campaign aims to tackle the stigma of loneliness, after a YouGov survey suggested loneliness is experienced by 92% of students.
The Campaign to End Loneliness said the government push was important but action was "largely best done by universities".
It said more funding was needed and services like the NHS should tackle it.
A government commissioned YouGov survey of more than 1,000 students suggested worries about loneliness before starting their university courses affected 52% of students.
This came ahead of other major concerns including managing money (49%), course difficulty (49%), finding suitable housing (26%) and fitting in (48%).
The government will be partnering with the restaurant chain Wingstop in a campaign encouraging students to get together at meal times and directing them to the Better Health Every Mind Matters website, which has resources and support for loneliness and mental health issues.
This will be featured on the chain's in-store digital screens and social media channels.
The government is also partnering with the Student Radio Association, accommodation provider Student Roost and mental health charities Student Minds and Sporting Wellness, to raise awareness of the campaign and its resources through their channels and university-focused activities.
The government's campaign encourages those aged 16 to 34 to "lift someone out of loneliness" by carrying out small acts of kindness such as starting a conversation or inviting someone out for a tea or coffee.
According to the Department for Culture, Media and Sport, nearly all students said they felt lonely at least once during the last academic year, yet almost half have hidden feelings of loneliness because of fears they will not be understood.
Young people aged 16 to 24- years-old are also the loneliest age group in society according to government statistics.
The minister for loneliness, Stuart Andrew, said: "While freshers' week is an exciting time for many, it can often be a daunting prospect for students.
"Moving away from home and away from friends and family can lead to feelings of loneliness and isolation, especially while trying to manage coursework, make new friends and often navigate a new city."
However, he said that there are things everyone can do to alleviate loneliness by reaching out to those that might be struggling and spending time volunteering.
Robin Hewing, programme director at the Campaign to End Loneliness, wants to a encourage a more "ambitious approach from the next government that will reach across society, including universities".
"That's about better funding to rebuild communities, supporting local authorities to address loneliness and to invest in our built environment," he said.
"We also need to ensure our services are well equipped to address loneliness, from the voluntary and community sector to the NHS."
Mr Hewing added that the work of universities using social prescribing link workers to help students find connections through different groups and volunteering have achieved "really good results".
Since launching its strategy on loneliness, the government and its partners have invested more than £80m in tackling loneliness.
This includes up to £30m allocated via the Know Your Neighbourhood Fund, creating volunteering opportunities and helping reduce loneliness in 27 areas.
Related Topics