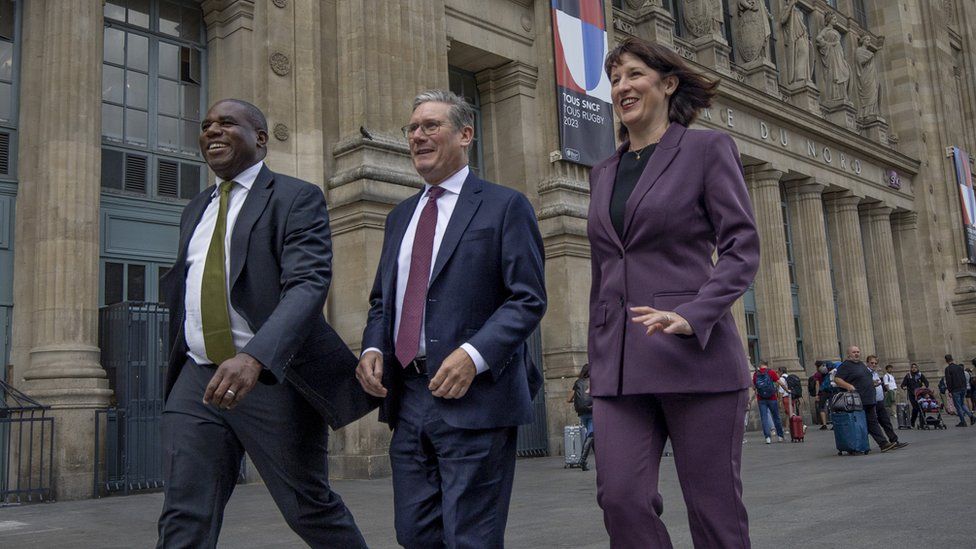 By Chris Mason
Political editor
Labour leader Keir Starmer has held what he describes as a "very constructive and positive" meeting with French President Emmanuel Macron in Paris.
It is the latest stopping off point in Sir Keir's grip-and grin-world tour, after photos, handshakes and smiles in the last couple of days in the Netherlands, Canada and France.
It is all about projecting an image of a government in waiting, albeit with the danger, for him, of being accused of hubris.
After all, the road to Downing Street leads via High Peak, Midlothian and Pendle rather than The Hague, Montreal and Paris.
This morning he was at the headquarters of the media and entertainment company Vivendi, meeting around a dozen business leaders from a collection of French firms described as having a "strong commercial footprint" in the UK.
He is accompanied by shadow chancellor Rachel Reeves and shadow foreign secretary David Lammy.
The media were excluded from the meeting with Mr Macron, which began with an exchange of gifts. Mr Macron was given an Arsenal shirt with his name on it. The French President gave the Labour leader some cufflinks.
Diplomatic niceties mean heads of state tend to avoid allowing the flashbulbs too close to a get together with an opposition politician; the formal relationship is always one government to another.
Today is significant for an obvious reason: Sir Keir is, literally, being given the time of day by the President of France, which tells you that President Macron reckons there is a good chance Sir Keir will be the next prime minister.
But what do they actually talk about?
I am told by Labour folk that it is a 'getting to know each other session' rather than much else.
Sir Keir would not be drawn on the details of their discussion, telling reporters afterwards that it "covered a wide range of issues".
"It was my first opportunity to say how much I value the relationship between our two countries, particularly when it comes to prosperity and security and how, if we are privileged enough to be elected into power, intend to build on that relationship and make it even stronger than it is today," he added.
Back in March there was bromance under a shared brolly when Rishi Sunak headed to Paris, for what he described as an "entente renewed" and the President said was a "reunion".
In other words, the relationship between London and Paris has already been reset, after the anger of Brexit and Liz Truss's remarks when she said the "jury was still out" on whether President Macron was a friend or foe.
How realistic is it for Labour to promise to change the Brexit deal?
Sir Keir told the Financial Times at the weekend that the existing arrangement was "too thin".
But he doesn't want any fundamental changes – such as rejoining the EU's customs union or the single market.
Firstly, it is a fascinating insight into Labour's psychology that the party is even willing to talk about Brexit.
For the last few years, there has been a near omertà about it from plenty at Westminster, and particularly Labour.
There was a perception that people were sick of it, and Labour in particular felt deeply bruised by it, having lost so many previous Labour strongholds at the last general election that had heavily backed Leave.
Will Brussels (re)negotiate?
But now, it's being talked about again. The elections and polling guru Prof Sir John Curtice offers an insight into why.
He argues support for Brexit has slumped and politicians, and Keir Starmer in particular, appears to be reacting to that.
So how much appetite will there be in Brussels to change the UK's Brexit deal?
A report out today by UK in a Changing Europe, a think tank, concludes that the scope for changing the Brexit deal – the Trade and Cooperation Agreement to give it its full title – is limited.
It argues the EU's current mindset is to leave it pretty much as it is, as Brussels is fed up of talking about Brexit and has bigger priorities.
It also suggests that Labour's suggested changes to the deal on such things as veterinary standards and the mutual recognition of qualifications could prove quite long winded to negotiate for relatively minor benefits.
Related Topics