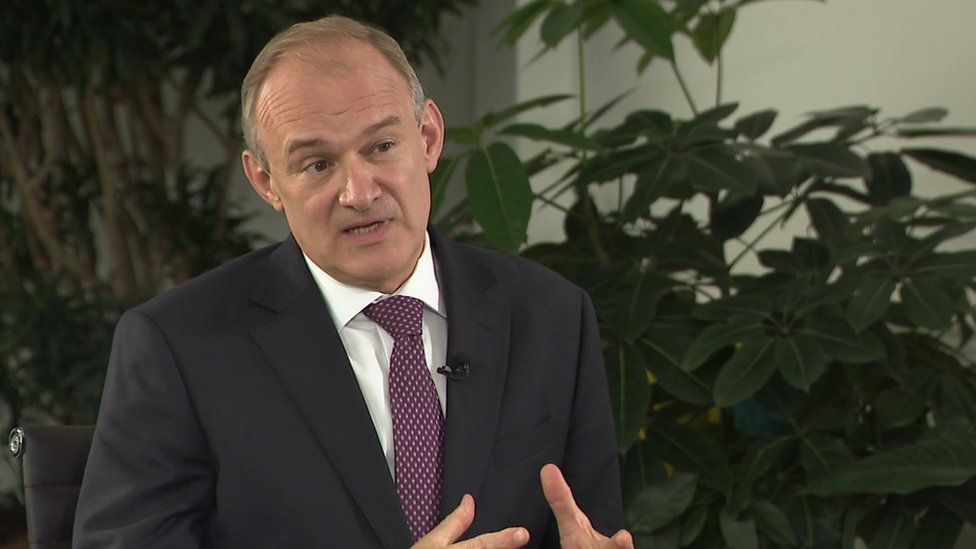 By Paul Seddon
Politics reporter
Liberal Democrat leader Sir Ed Davey has rejected the idea of election deals with Labour to defeat Tory MPs at the next general election.
In a series of regional BBC interviews, he ruled out electoral pacts in seats where the two parties could be in competition to oust the Conservatives.
But he added his party would "focus our resources on where we can win".
And he did not rule out entering a coalition with Labour after the election.
Asked if he could, he replied: "I'm focused – and I won't be distracted – from my top task, which is to defeat Conservative MPs."
He also rejected the idea the Lib Dems could form deals with Labour ahead of by-elections next month in Mid Bedfordshire and Tamworth, seats won by the Conservatives at the last general election.
Asked if his party could agree to ease off its campaigning in Tamworth if Labour did the same in Mid Bedfordshire, he replied: "There'll be no deals and no pacts."
However, he did not dismiss the idea that the Lib Dems would choose to put more resources into the Mid Bedfordshire contest, adding it had to prioritise areas where it had a "strong chance" of winning.
The two parties are vying to snap up the seat, vacated by Nadine Dorries last month, with some commentators pointing out that this could allow Rishi Sunak's party to retain it.
At the next general election, expected next year, the Lib Dems are expected to target mainly Conservative-held seats across sections of southern and south-western England.
Deal or no deal
At the last election in 2019, the Lib Dems formed an electoral pact with the Green Party and Plaid Cymru, with the parties agreeing not to stand against each other in dozens of seats.
But the Lib Dems' leader at the time, Jo Swinson, rejected calls for her party to pull out of seats held by Labour candidates, despite some Lib Dems deciding to pull out so as not to split the anti-Brexit vote.
However, the issue of Brexit it unlikely to be a prominent issue at the next poll, with neither party making it a prominent theme of their campaigning in by-elections in recent years.
Labour leader Sir Keir Starmer has also not ruled out entering into a coalition with the Lib Dems if his party falls short of an overall majority – despite explicitly rejecting one with the SNP.
Writing for Politics Home on Monday, the party's former leader Sir Vince Cable said the main parties would not want to "prejudice their negotiating position" in the event of a hung Parliament.
He wrote that a formal coalition was unlikely because it could hurt the Lib Dems politically, although a looser agreement was "less problematic".
But he added there was "no need and no wish" for a pre-election pact with Labour at a leadership level, noting that polls show increasing levels of tactical voting anyway.
"They will concentrate scarce resources where they have the best chance of winning and voter preferences will take care of the rest," he added.
You can view a full list of candidates for the Mid Bedfordshire by-election on 19 October here. A list of candidates for the Tamworth contest, taking place on the same date, can be found in this story.
Related Topics