By Joshua Nevett
BBC Politics
Can Prime Minister Boris Johnson's commitment to climate action survive soaring energy prices and the war in Ukraine? A band of Conservative MPs is pushing for a rethink.
As the government of former Prime Minister Theresa May buckled under the strains of Brexit, MPs briefly put their quarrels aside to partake in a unanimous cheer of "aye".
It was a rare display of parliamentary unity that the government said would set a benchmark for the world to follow.
But now that consensus is being tested.
A small but increasingly vocal band of Conservative MPs and peers known as the Net Zero Scrutiny Group (NZSG) are pushing for the 2050 target to be rethought.
They insist they do not dispute the science on climate change. Instead, they say they are primarily concerned about the cost to consumers of meeting the target.
In an echo of the push for Brexit, which some of the group's key members were involved in, they are warning of a shock at the ballot box should the UK stand by its net zero policy.
"People tend to vote on how well their wallets are feeling," the group's chairman, Conservative MP Craig Mackinlay told the BBC.
"So if we're hitting people with costs and they think, 'Why am I doing this?', that becomes a very powerful political point."
COP of the agenda
The net zero rebels are, at the moment, a smaller and more informal faction than the European Research Group (ERG), who hastened Mrs May's exit by organising a no-confidence vote over her Brexit deal.
One-time ERG chairman, former Brexit minister Steve Baker, is among the self-styled "libertarian" Conservatives to have signed up to the new group, which is thought to number about 19 MPs. Former ministers Esther McVey and Robert Halfon are also members.
Ironically, the COP26 climate conference last October was a catalyst for the group's formation.
But Mr Mackinlay and the net zero rebels were alarmed by "some of the more outlandish and unachievable proposals" being put forward.
"There were so many daft policies being proposed that would make Britain colder and poorer," he said. "We thought it was time to have a proper debate about these things."
The group broke cover in a letter to the Sunday Telegraph, published in January. In it, they urged the government to scrap green levies and drill for more fossil fuels in the North Sea to lower energy bills.
Subsequent newspaper reports suggested some cabinet ministers sympathised with their position. Chancellor Rishi Sunak was reported by the Telegraph to have pushed for six new North Sea oil and gas fields to be given licences this year.
Labour's shadow climate minister Olivia Blake said the NZSG's potential influence on Mr Johnson was "disturbing". "No wonder the government is dragging its heels on climate action," she added.
A government source told the BBC the cabinet was unified on net zero, which they said was the solution to, not the cause of, rising energy bills. When asked about the influence of the NZSG, the source said every Tory MP stood on a manifesto to deliver net zero.
A green solution
The green side of the Conservative Party is, on the face of it, larger and better organised than the net zero rebels.
One group, the Conservative Environment Network (CEN), boasts a membership of more than 120 MPs and peers.
In January, Chris Skidmore, the former minister who signed the 2050 emissions target into law, launched a Net Zero Support Group to counter the arguments being made by Mr Mackinlay's faction.
The Conservative MP said a "false" narrative that linked the policy with the rising cost of living had gained traction in the media, which had given a "fragmentary group" of net zero sceptics undue prominence.
Mr Skidmore said he wanted to see a "green industrial revolution" in the UK and the increasingly cheaper cost of renewables such as wind and solar was making that possible.
Multiple studies, he said, have emphasised the long-term economic benefits of the UK's net zero strategy.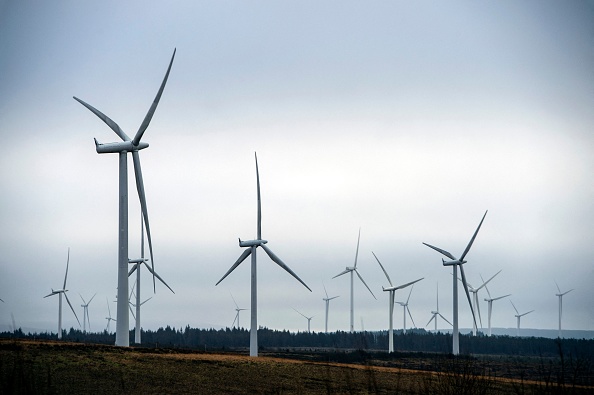 Getty
Cost analysis of net zero by 2050
£1.4tnthe estimated cost to the whole economy

£344bnthe estimated net cost to the state with savings considered

0.4% of GDPthe estimated average cost to the state a year over three decades

The costsof net zero could be significant but not exceptional

Failureto control climate change would incur much larger costs

Benefitsof quick green transition could be significant
One first-term Tory MP, however, wasn't convinced by the group. Alexander Stafford said "they're trying a recruitment drive but I don't think it's going that well".
He said he had rebuffed a request to sign a letter urging the government to lift its ban on fracking, a controversial method of shale gas mining.
"I'm massively against fracking," said the Rother Valley MP, adding that "the job and the wealth opportunities created by net zero" would benefit his constituents.
He accused Mr Mackinlay's group of "using the cost-of-living discussion almost as an excuse" to push its "fundamentally flawed" agenda.
The government halted fracking in 2019 after scientists raised concerns about earthquakes and "unacceptable" risks to local communities. A government source said there were no plans to bring back fracking.
But Steve Baker, who is backing a campaign to resume fracking in the UK, said: "Boris [Johnson] should immediately stop the concreting in of current shale gas wells and go for gas with all the vigour of a national war effort."
Zeroing in
Nigel Farage – ever alive to populist trends – has said he was ready to campaign against net zero, as part of what he called a UKIP-style "revolt" that is brewing in northern constituencies won by Mr Johnson in 2019.
Richard Tice, who took over leadership of Mr Farage's Reform UK – formerly the Brexit Party – has called for a referendum on net zero ahead of the next general election in 2024.
He claims "voters didn't have a choice" at the last election, which he says was "about three words – Get Brexit Done".
The next election, he says, will be about two words – net zero. Meanwhile, opinion polls such as this one have showed widespread support for net zero policies.
Mr Mackinlay's Tory group is not backing a referendum, but with energy bills set to rise further, Mr Mackinlay warned of "serious" consequences for Mr Johnson at the ballot box.
"Politically, as we saw with some challenger parties like UKIP and others, it [only] takes the loss of a few percent to change a seat."