By Mary O'Connor & Doug Faulkner
BBC News
Vladimir Putin put Russia's nuclear forces on high alert after comments by UK Foreign Secretary Liz Truss and others, the Kremlin has said.
Kremlin spokesman Dmitry Peskov said "unacceptable" remarks were made about possible "clashes" between Nato and Moscow over Russia's attack on Ukraine.
It is unclear precisely which comments by Ms Truss Russia objects to.
On Sunday, she said if Russia was not stopped, other states may be threatened and it could end in conflict with Nato.
A Foreign, Commonwealth and Development Office source told the BBC: "I don't think anything Liz has said warrants that sort of rhetoric or escalation."
They said the foreign secretary had always spoken about Nato as a "defensive alliance" and that the UK needed to support Ukraine.
Echoing comments by Defence Secretary Ben Wallace earlier, the source insisted the UK wanted to avoid "any sort of miscalculation".
Speaking at a press briefing on Monday, Mr Peskov said: "Statements were made by various representatives at various levels on possible altercations or even collisions and clashes between Nato and Russia.
"We believe that such statements are absolutely unacceptable. I would not call the authors of these statements by name, although it was the British foreign minister."
Speaking to Sky News's Trevor Phillips on Sunday, Ms Truss warned that if the Russian president was not stopped in Ukraine, there could be "conflict" between Russia and Nato.
"This long-running conflict is about freedom and democracy in Europe," she said.
"If we don't stop Putin in Ukraine, we are going to see others under threat: the Baltics, Poland, Moldova, and it could end up in a conflict with Nato. We do not want to go there."
Following Russia's comments on Monday, Ms Truss announced further sanctions in the House of Commons.
These included freezing the assets of three further Russian banks and introducing new powers to prevent Russian banks from clearing payments in sterling, initially targeted at Russia's largest bank, Sberbank.
There will also be an export ban on "high-end technological equipment" including marine and navigation equipment which "will blunt Russia's military industrial capabilities and act as a drag on Russia's economy for years to come".
She said there would be "economic hardship" for the UK and its allies as a result of the sanctions but said it was "nothing compared to those endured by the people of Ukraine", adding that "Putin must lose".
Ms Truss will go to a meeting of the United Nations Human Rights Council (UNHRC) in Geneva on Tuesday, where she is expected to say Mr Putin is "violating human rights on an industrial scale".
On Sunday evening, Russian state television channel Rossiya 1 used Ms Truss's comments to illustrate its news flash on the Kremlin's order and claims of Western aggression.
Mr Putin's announcement does not mean Russia intends to use its nuclear weapons.
His order attracted international condemnation, with the US branding it an "unacceptable escalation".
Scotland's First Minister Nicola Sturgeon defended Ms Truss, tweeting: "The only person responsible for Putin's despicable nuclear threat is Putin."
Russia attacks Ukraine: More coverage
Mr Wallace said Russia's heightened nuclear alert was an attempt by the Kremlin to "distract" from what was "going wrong" with its assault on Ukraine.
The defence secretary sought to reassure the public over Mr Putin's order, telling BBC Breakfast that the government did not recognise in the phrase he described anything "that is a change to what they have currently as their nuclear posture".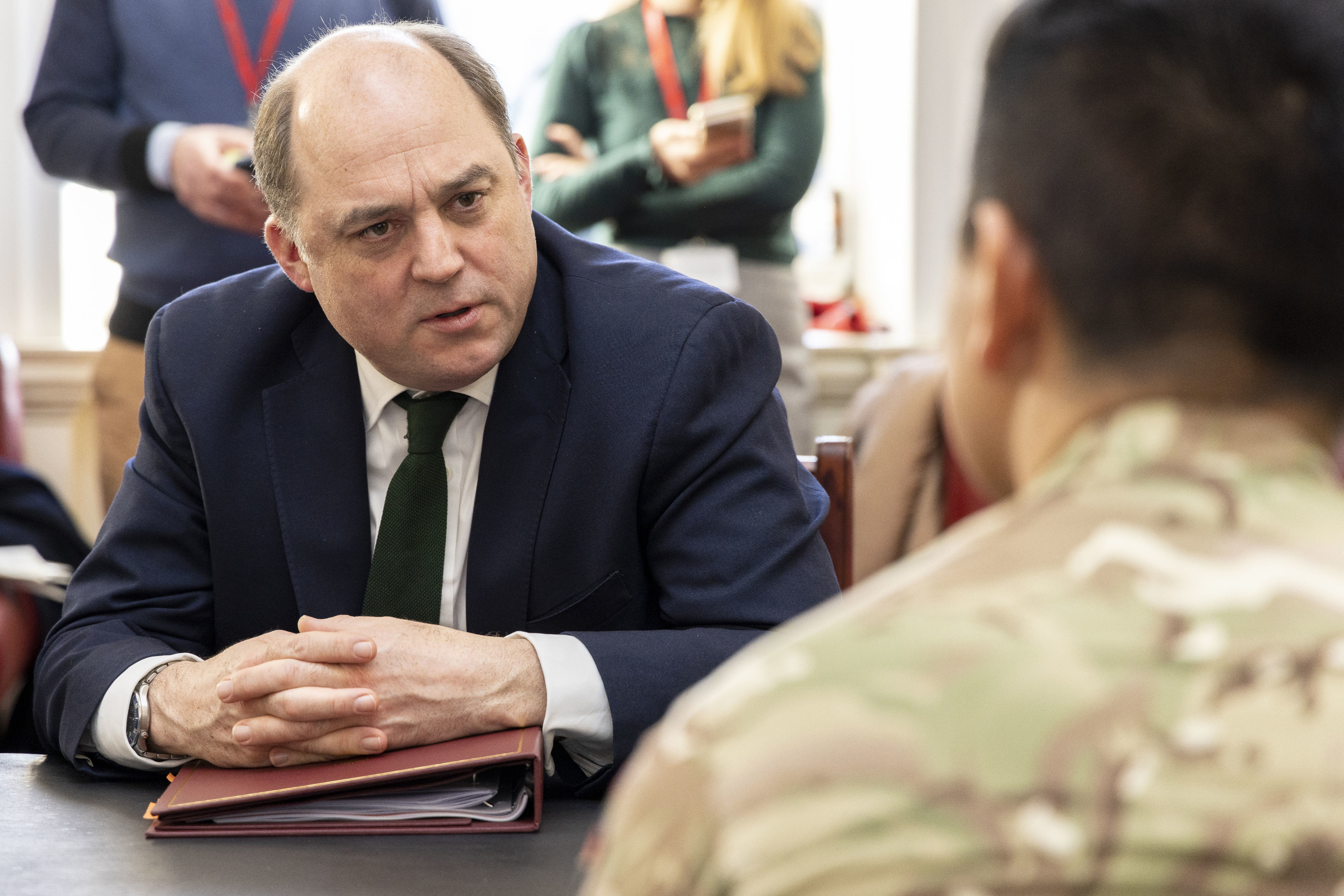 PA Media
This is predominantly about Putin putting it on the table just to remind people, remind the world, that he has a deterrent.
"We will not do anything to escalate in that area, we will not do anything to feed any miscalculation, we take it very, very seriously," he added.
Prime Minister Boris Johnson is set to travel to Poland and Estonia for meetings with his counterparts and Nato secretary-general Jens Stoltenberg on Tuesday, No 10 has said.
In other UK developments:
More than half a million people have fled their homes to escape the war, the UN said, with major cities – including the capital, Kyiv, and Chernihiv – remaining under Russian attack.
Negotiators for Kyiv and Moscow met for talks on Ukraine's border with Belarus on Monday.
Before the talks Mr Zelensky said he did not expect a breakthrough but his delegation would attend because of the "small chance to end the war".