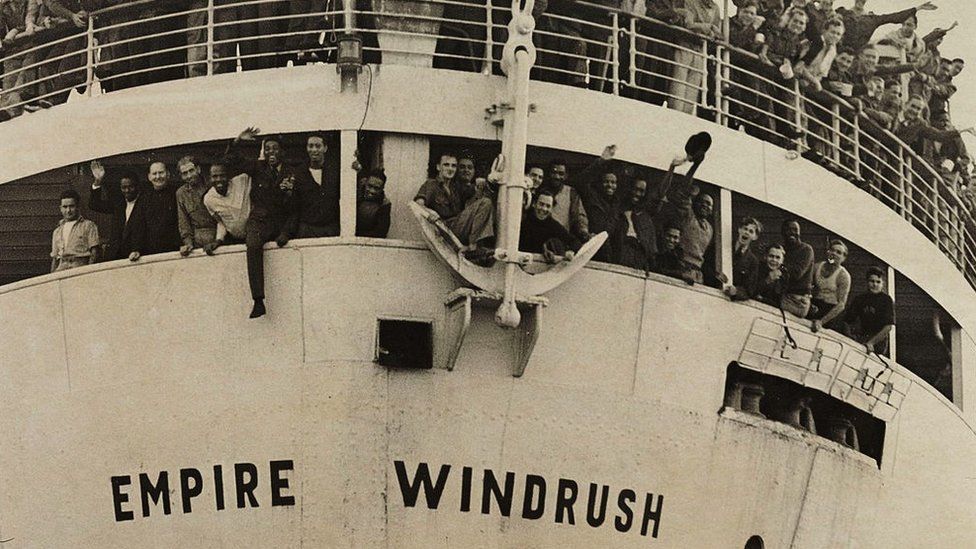 By Ashitha Nagesh
Community affairs correspondent
The Home Office is disbanding its team dedicated to its Windrush policy.
The team was set up in 2018 following the Windrush scandal, in which thousands of British people were wrongly classed as illegal immigrants.
Many – mostly of Caribbean origin – were wrongly deported.
In its annual report, the Home Office said as the team had made "significant progress", its Windrush response "will now be embedded into the fabric of our everyday operations and activities".
The announcement also follows widespread criticism of the Windrush compensation scheme.
There have been growing calls – including one by Human Rights Watch earlier this year – for the scheme to be taken out of the Home Office's control and handed to an independent body.
The team that is being disbanded is separate from the team that handles Windrush compensation cases.
In its report, the Home Office said there had been "a concerted effort across the government to right the wrongs suffered by those affected" by the scandal.
Shadow home secretary Yvette Cooper called the government's decision "truly shameful and insulting to the Windrush generation".
"There is still so much more work to do," Ms Cooper told the BBC.
The scandal, which unfolded in April 2018, affected people who arrived in the UK from Caribbean countries between 1948 and 1971.
They have been labelled the Windrush generation – a reference to the ship HMT Empire Windrush, which docked in Tilbury on 22 June 1948, bringing workers from Jamaica, Trinidad and Tobago and other islands, to help fill post-war UK labour shortages.
This year marks the 75th anniversary of its arrival.
It also affected people from non-Caribbean countries that were previously British colonies, who moved to the UK before immigration laws changed in 1971.
Many of those affected were unable to find work and housing or access to healthcare. Some, who had been in the UK for most or all of their lives, were wrongfully deported.
In a statement, the Home Office said it had "made significant progress since Wendy Williams' review and our important work to implement her recommendations continues with the same focus".
"It is natural that teams delivering on this work change and evolve as improvements continue to be made and become more embedded. Both the compensation and status scheme teams, as well as our engagement and outreach team remain unchanged."
It added that it had paid or offered more than £79 million in compensation to those affected.
Related Topics