Sky Sports Racing's senior analyst Jamie Lynch takes a deep dive into Wednesday's feature Listed John Musker Fillies' Stakes at Yarmouth and gives a big race verdict.
BELHAVEN
Jockey: George Wood | Trainer: Harry Eustace
Successful in four handicaps – all at a mile – on her way up but has struggled as her mark has headed above 80, including at Chester on Saturday. Whether it's trip or talent, she doesn't have the qualifications for this, her first listed lesson set to be a harsh one.
FALL IN LOVE
Kyle Strydom | R Varian
Highly tried when trained in France, emboldened by her flattering fifth to Nashwa in last year's Prix de Diane.
Her SP of just 11-2 for a listed event at Pontefract told a tale of a projected uplift for the transfer to Roger Varian, only it never materialised as she trailed in last and, as such, it's a leap of fanciful faith to support her in a better race of its type here, even if the return to a longer trip helps.
MAKINMEDOIT
Hayley Turner | Harry Eustace
Outran her odds (of 28-1) for fifth in last year's John Musker, then raised her game further on the All-Weather in the winter, a standard she's slipped below in three listed events back on turf this season, the Galtres too much last time, including for stamina.
She'll be in the market for picking up any pieces late on, always her style (habitual slow starter).
MORNING POEM
R Havlin | J & T Gosden
From a fine family of middle-distance fillies, her dam a listed winner for Gosden, Mill Springs, herself out of Oaks third Mezzogiorno, and so it's no wonder they're persevering with Morning Poem, who's had more than a year on the sidelines.
She looked to be on her way to this level (at the least) the last time we saw her, only 4-1 for a listed race at Salisbury where she finished fifth after refusing to settle, a tendency that will quickly run down her reserves on this comeback if she's not careful.
MUKADDAMAH
J Mitchell | R Varian
Hasn't won since her racecourse debut in January 2022, though it has mainly been listed and Group races for her ever since.
Runner-up to Midnight Mile at York over this trip in July, which gives her a chance of a podium finish, but those performances have been the exception rather than the rule with her, highlighted by Haydock last time, and there's no way Jim Crowley could stay with her when Al Asifah's in town.
PERSIST
Cieren Fallon | W J Haggas
Has never lived up to her pedigree (by Frankel out of QEII winner Persuasive), not helping herself by continually blowing the start, but she still produced a personal best in a Goodwood handicap last time when second to the mud-loving There's The Door, with La Isla Mujeres back in third.
However, she was getting weight from both, off a mark of just 86, which wouldn't be enough for an average fillies' listed race, and this is a good one.
QUEEN OF THE SKIES
N Callan | Jane Chapple-Hyam
Finished eighth at 10-1 in this race last year when having just her third start. No better nor worse for switching stables this year, still coming up short at listed level, beaten a long way at Sandown last month.
May get further than expected for the simple fact she's a prominent racer when most others will be playing the waiting game.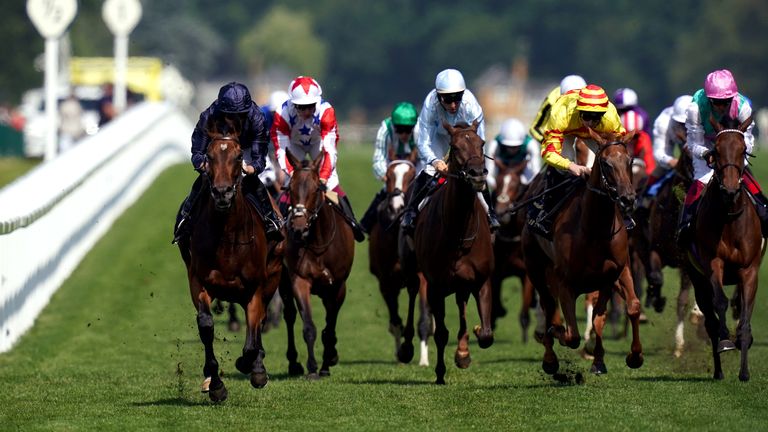 AL ASIFAH
Jim Crowley | J & T Gosden
In the last 20 years, you can count on one hand the horses who looked as good as she did after two starts. And it wasn't just the eye test, either, as amongst those she toyed with at Goodwood was subsequent Lillie Langtry and Park Hill winner Sumo Sam.
It's easy to exhort in hindsight, but it was harder not to rush and push her to Royal Ascot and the Ribblesdale, not part of the plan (needed to be supplemented), and the 11-day turnaround was presumably a factor in her flop at odds-on. John Gosden has won the John Musker six times, including with So Mi Dar, who shares some similarities with Al Asifah as a Group 1-bound filly who used Yarmouth as the rebound race after a setback and a break, before her shot at destiny at the top table.
The fact Al Asifah brings with her a Qipco British Champions Fillies & Mares entry shows that the Ribblesdale has only dented rather than derailed the high hopes for her, and if Royal Ascot hadn't happened she'd be 1-3 and not 2-1 for this. A penalty (for Goodwood) is neither here nor there to a filly like her and, never mind win, she could easily put on a show.
CITE D'OR
Pierre-Louis Jamin | Harry Eustace
Has spent the last year mostly pot-hunting in races beyond her means, though something presumably wasn't quite right with her in a handicap at Epsom on Derby day given she's been absent since. Hard to see her playing much part in a contest like this.
INFINITE COSMOS
R Kingscote | Sir Michael Stoute
Al Asifah isn't the only one with a Group 1 entry as Infinite Cosmos likewise returns with a ticket for the Qipco British Champions Fillies & Mares. I remember ahead of Royal Ascot, on Sky Sports Racing, when Richard Kingscote was asked who he was looking forward to most he had no hesitation in nominating this filly for the Ribblesdale, only she wasn't seen there, nor since, putting her in a similar boat to Al Asifah.
From the family of Crystal Ocean and Crystal Capella, she'll thrive on her racing, just not having much of it so far, still not rated far behind Al Asifah (factoring in that one's penalty) following her third to the Oaks winner Soul Sister in the Musidora. This may be more a means to an end for her, the end game being 1½m, potentially a formidable filly once she gets there.
KHINJANI
Saffie Osborne | Ed Walker
Slow-burner who's getting her act together recently and, after a breakthrough at Haydock, she was beaten only by the upwardly-mobile Unlimited who followed up next time. However, the bottom line with Khinjani is that if this was a handicap, she'd be getting weight off everything, and plenty of it.
LA ISLA MUJERES
Hector Crouch | R M Beckett
Emerged on the conveyor belt of Ralph Beckett's fast-forward fillies and took off in mid-summer with back-to-back wins at Kempton and Salisbury (by 7 lengths), from the front. Beaten into third when favourite for a handicap at not-so-Glorious Goodwood, on heavy ground, one place behind Persist (same terms), but it's significant that Beckett is still sticking to the programme and upgrading her for this.
We haven't seen the best of her and stall 13 needn't be a negative as plenty on her inner won't be near so interested as her in getting on the front row.
SAPPHIRE SEAS
W Buick | C Appleby
Didn't run at all at two, and there have been spaces in her races this year, but the patience has paid off, with three straight wins, each one more impressive than the last, the rise for her handicap romp at Haydock putting her alongside Al Asifah and Infinite Cosmos as the only fillies in the field rated north of 100.
She doesn't have their span of scope, though, and this is the best race and tightest turnaround that Sapphire Seas has faced, so there are some strings attached.
SPARKLING BEAUTY
Rowan Scott | D J S Ffrench Davis
Ended up in the Fillies' Mile last October, and not unreasonably after finishing second in a French Group 2. However, hasn't looked the same so far in a campaign restricted to just two races, leaving Richard Hughes in between, and hard to see her figuring in this.
JAMIE LYNCH'S VERDICT
The key question is whether you think the Ribblesdale was a bump in the road or the end of the road as far as AL ASIFAH's star quality is concerned? I'd rather see that one Royal Ascot brushstroke for what it was and focus on the bigger picture of her "wow" wins at Haydock and Goodwood along with the faith in her future that comes with a Champions Day entry.
With a parallel profile, Infinite Cosmos is a worthy adversary, while Persist may be the bet to do the best of the 4-y-os, but I'd be disappointed if Al Asifah didn't take care of them all.
Watch the EBF Stallions John Musker Fillies' Stakes from Yarmouth live on Sky Sports Racing (Sky 415 | Virgin 519) on Wednesday 20th September.