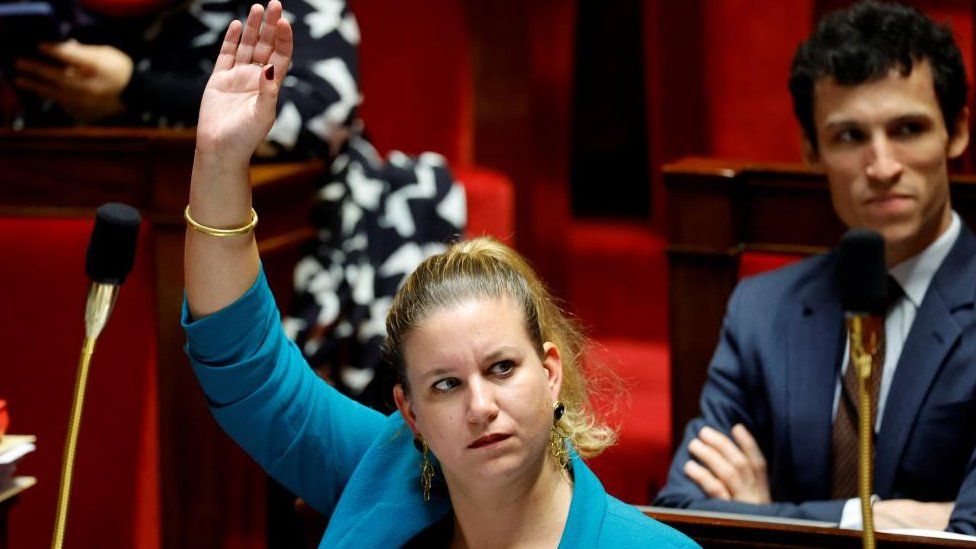 France's National Assembly has backed a bid to enshrine the right to abortion in the constitution, prompted largely by increased restrictions elsewhere.
Lawmakers voted by a large majority to include a clause guaranteeing "the effectiveness and equal access to the right to end pregnancy voluntarily".
Left-wing MP Mathilde Panot, who is behind the change, said it was to protect against the "backsliding" seen in the US and Poland.
But the bill will face a tough passage.
Last month the upper house, the Senate, rejected a similar proposal and is thought unlikely to back the new amendment. Right-wing parties - which dominate the Senate - argue that abortion rights are not under threat in France.
A change of constitution would also have to go to a referendum, although opinion polls suggest more than 80% of French voters are behind it.
Ms Panot's amendment went through after securing the support of MPs in Emmanuel Macron's ruling Renaissance party, but a reference to the right to contraception was scrapped.
Macron MP Aurore Bergé had been due to present her own abortion amendment next week but withdrew it, telling MPs how her mother had endured an abortion without anaesthetic before it was legalised in 1974.
"The question of access to abortion and of protecting it isn't a whim; it shouldn't be politicised; it's not a matter of party politics," she said.
Justice Minister Eric Dupond-Moretti also backed changing the constitution and praised the "historic" vote.
Last February, the French parliament voted to extend the legal timeframe for abortion from 12 to 14 weeks, similar to neighbouring Spain. It is lower than other European countries, including Sweden, the Netherlands, England, Wales and Scotland.
Ms Panot dedicated Thursday's vote to women in the US, Poland and Hungary. Her push to change constitution was triggered by a vote in the US Supreme Court to end the national guarantee to abortion access, overturning the landmark Roe v Wade ruling in 1973.
Thirteen US states have since begun enforcing abortion bans, while voters in states including California backed proposals this month to enshrine the right to abortion in their constitution.
Poland has a near-total abortion ban and this year began enforcing a ruling that terminating pregnancies with foetal defects was unconstitutional.
Meanwhile, Hungary's nationalist government recently tightened restrictions on abortion to require pregnant women to prove a foetus's sign of life before requesting a termination.