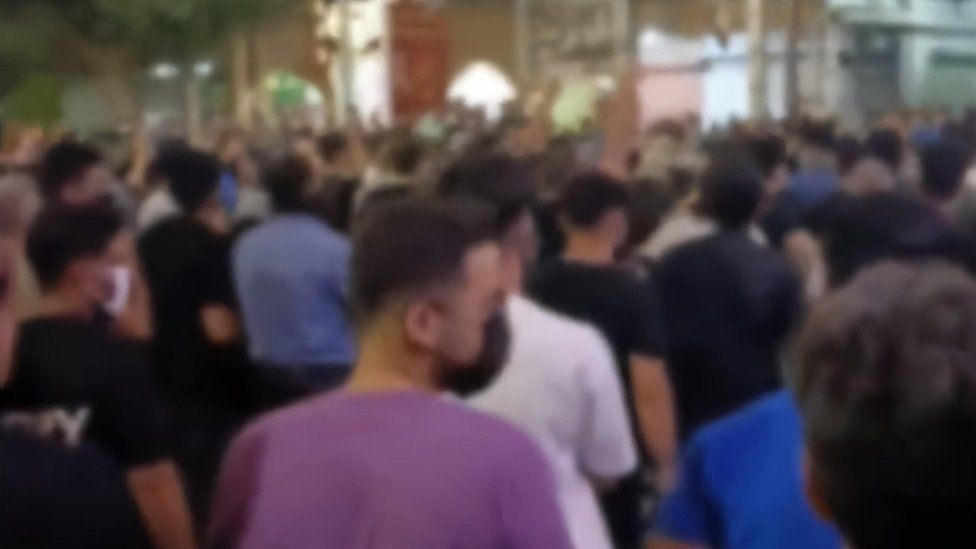 Iran has seen one of the biggest nights of protests since anti-government demonstrations erupted six weeks ago.
Tens of thousands of people took to the streets in all major cities, as well as other places where demonstrations had subsided recently.
The escalation came after protesters marked 40 days since Kurdish Iranian woman Mahsa Amini died in police custody, sparking the unrest.
It is the most serious challenge to the Islamic republic since its inception.
Norway-based Iran Human Rights says at least 234 protesters, including 29 children, have been killed by security forces in crackdowns so far. Iran's leaders have portrayed the unrest as "riots" fomented by foreigners.
Footage posted on social media and verified by the BBC show widespread protests on Wednesday night.
In the capital, Tehran, fires were lit in the street, while hundreds marched down a main road chanting slogans including "Death to the dictator", a reference to Iran's supreme leader and which has become a common refrain.
Other cities, such as Andimeshk and Borujerd in the west, and Lahijan, near the Caspian Sea in the north, also saw a resurgence of protests.
Thousands had gathered near her marking 40 days since her death. A rights group and witnesses said officers fired live rounds and tear gas at the crowds in the city. Numbers of casualties are not known.
"The society is very angry. We had enough of them [Iranian leadership]," a 27-year-old female protester in Karaj, close to Tehran, told BBC Persian.
"I want to have the right to say no to these people. I'm tired of being a second-class citizen. Because I am a woman. Men are tired of the intimidations by the regime. This is the first time in the history of our country that we stand together for a goal which is woman, life and freedom."
Protests swept across Iran after Ms Amini, 22, died on 16 September.
She had been detained three days earlier by the morality police in Tehran and fell into a coma after collapsing at a detention centre.
There were reports that officers beat her with a baton and banged her head against a vehicle, but police denied that she was mistreated and said she suffered a heart attack.