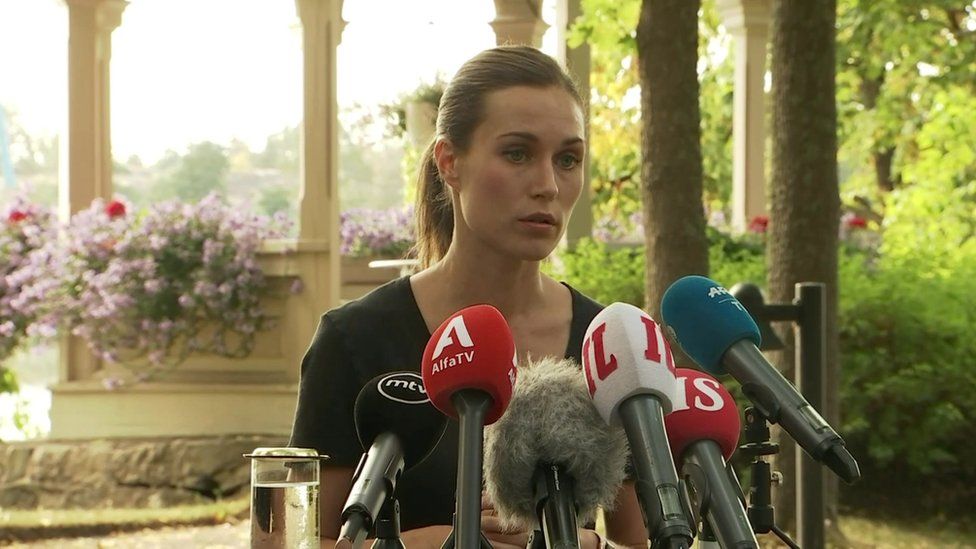 Finland's prime minister has said she has taken a drug test, after new footage emerged showing the leader dancing with a Finnish popstar.
Sanna Marin, 36, came under fire this week after a leaked video showed her partying, with some politicians saying she should be tested for narcotics.
At a news conference on Friday, Ms Marin said she had taken the test and expects the results next week.
The prime minister repeated her denials that she has ever taken drugs.
"I did nothing illegal," she told reporters in Helsinki.
"Even in my teenage years I have not used any kind of drugs," Ms Marin said, adding that she took the drug test as an added measure to allay any concerns.
The prime minister also insisted that she is entitled to the presumption of innocence.
Reporters questioned whether Ms Marin, who has been in power since December 2019, would have been able to make snap governmental decisions if necessary.
"I don't remember a single time that there was a sudden situation in the middle of the night to go to the State Council Palace," she insisted.
"I think my ability to function was really good. There were no known meetings on the days I was partying."
Ms Marin said she knew she was being filmed, but said she was upset that the footage had become public.
"I trust that people understand that leisure time and work time can be separated," she added.
One of the world's youngest leaders, Ms Marin makes no secret of partying, and has often been photographed at music festivals.
Just last week, she was dubbed the "coolest prime minister in the world" by German news outlet Bild.
This week, two separate videos emerged where the Finnish leader can be seen partying.
In the footage - thought to be taken from social media - she and Finnish celebrities are seen dancing and singing at a house party.
The second video, which appeared on Friday, shows Ms Marin dancing with Finnish popstar, Olavi Uusivirta.
At Friday's news conference, a reported claimed he seemed to kiss the prime minister on the neck - but she denied that, and said he was talking to her, and possibly kissed her cheek.
"If someone has kissed me on the cheek, there's nothing inappropriate or something I can't handle tell my husband," she said.
There has been widespread reporting on the videos in Finnish media - which justified the use of the footage as being in the public interest.
But other opposition party politicians have criticised both the prime minister and the media for talking about partying - instead of more important domestic problems.
The footage has sparked fierce debate in Finland about the way politicians handle themselves and the amount of privacy afforded to them.