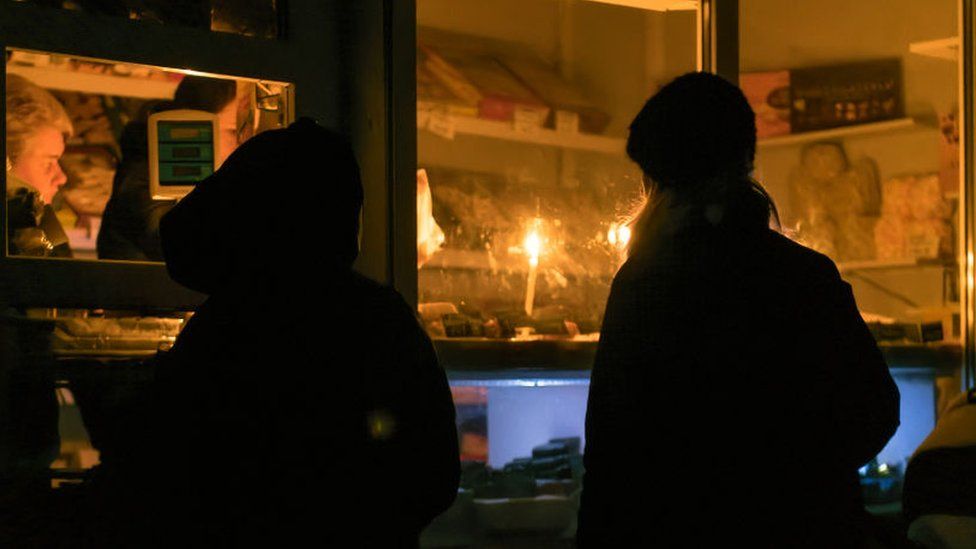 By Phelan Chatterjee
BBC News
Around 70% of the Ukrainian capital remained without power on Thursday morning, as work continued to restore the city's water supply.
Russian attacks on energy facilities have caused power cuts across Ukraine.
It comes as the winter sets in, with snowfall and sub-zero temperatures.
Kyiv Mayor Vitali Klitschko said energy firms were trying to restore electricity as soon as possible, but this would depend on the "balance" in the national grid.
Power, water and heat supply have been restored in the western city of Lviv after it was left entirely without electricity, according to its mayor Andriy Sadovyi.
But he said there would still be planned blackouts in parts of the city.
Russia has been targeting missiles at Ukraine's energy network for weeks, with rolling power cuts becoming part of everyday life for millions of Ukrainians.
Some 70 missiles hit the country on Wednesday, according to President Volodymyr Zelensky.
Ten people were killed, said Interior Minister Denys Monastyrsky, and three nuclear power plants were urgently closed.
Officials say they will be up and running again by Thursday evening - which should help to ease supply issues.
More than half of neighbouring Moldova also had its electricity cut, but power was restored in much of the capital Chisinau within a few hours.
The country's foreign ministry has reportedly summoned the Russian ambassador - and in a statement decried the "dramatic consequences" for Moldova of Russia's "brutal bombing of Ukraine".
Millions had been left in the cold without heating, water or energy due to Moscow's "formula of terror", he said.
The World Health Organization has warned the country faces a humanitarian catastrophe, as hospitals are left without energy.
After Wednesday's strikes, a hospital in central Ukraine had to switch to generators as doctors carried out two kidney transplants.
Russia has also been accused by the UK Defence Ministry of using Iranian-made drones to target medical facilities in Ukraine.
Moscow's UN ambassador Vasily Nebenzya said his country's strikes on energy and other infrastructure were intended to "destroy the military potential of our opponents".
He suggested that infrastructure was being used to supply Ukrainian military units with Western weapons.